Drumcullen G.A.A. Club – A background
First records of the establishment of the Drumcullen club dates back to 1890, just six years after the foundation of the GAA in 1884. The club was so named after the only townland in the parish in which there were no living residents. The ancient monastery of St. Barron was located beside the Camcor river in the townland of Drumcullen, hence the name. Currently, the club's catchment area encompasses the united parish of Eglish & Drumcullen, situated within a completely rural triangle bounded by Kinnitty, Birr and Kilcormac. However, in its early years, players from the parish also played with Fortal and there is anecdotal evidence of noted players assisting the Lahorna De Wets (now Kilruane McDonaghs) club in a Tipperary championship game! Eglish also fielded teams in both hurling and football until the mid-forties.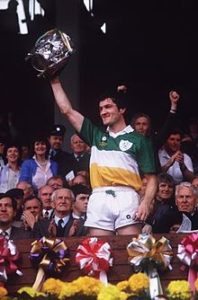 The clubs first Senior Hurling title was annexed in 1908 with victory over Ballinamere at Killoughey. While hurling was always the primary, and dominant code, the club also competed in the Offaly Senior Football championship in 1974 and '75 having defeated Cappincur in the Junior Final of 1973. Following heavy defeats by the all-powerful Rhode and Walsh Island in successive years we reverted to the less punishing environment of Junior Football in which we still field a team annually. Throughout the decades, the club supplied many excellent hurlers to Offaly teams at every grade. Indeed, Pat Fleury-Offaly All Ireland winning captain in 1985- and Paddy Molloy went on to play for Leinster.
The club achieved significant success at underage level from 1949 until the 70's, winning Juvenile, Minor and Under 21 championships. Decline in rural population and smaller family units forced a new strategy and for the past number of years we are harmoniously joined with our neighbours Seir Kieran at all underage levels from Under 14 up to Under 21. This combination is proving beneficial to both as young players are availing of the experience to compete at the highest level with their peers, thus enhancing their skills and competences which should stand them in good stead in the future.
The club grounds at Rath were originally part of the Thomastown Estate and were purchased from the Irish Land Commission in 1959. This field was later discovered on an Ordinance Survey Map of 1828 where it was registered as 'Hurling Park', surely amongst the oldest hurling grounds in Ireland.  Following initial development of the playing pitch, a pair of railway freight-wagons were used as dressing rooms for subsequent years. Indeed, many a player went home in the dark from training wearing items of clothing belonging to others!!
The deficit in accommodation was corrected by 1984 when, through entirely voluntary labour, four dressing rooms, a referees/meeting room and covered stand were officially opened with a game featuring Offaly and Westmeath. This stand was the first covered accommodation for spectators in Offaly at that time. When Croke Park's old Hogan Stand was demolished in 1999, club workers brought seating from there and these were used to provide seating for 350 people. An attractive and cosy clubhouse was completed in 2002 and is used extensively by many community groups while also proving attractive to families for afternoon birthday parties.  The excellent playing surface and central location in the hurling heartland makes Drumcullen's grounds and facilities a popular and suitable venue for games at every level.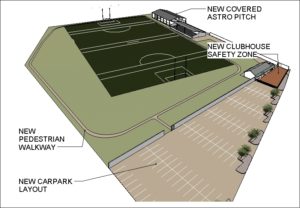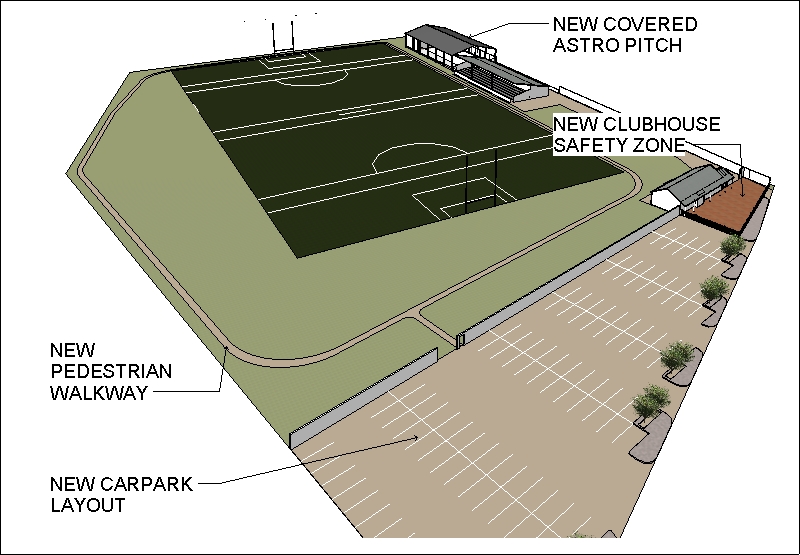 The club promotes a policy of inclusiveness and integration. As of 2016, an ambitious and exciting plan for further major developments is under way. When complete these will add to the capacity to further embrace this policy. The club remains ambitious in promoting our national games, expanding and enhancing the facilities available and remaining relevant and important to our progressive and supportive community.
Roll of Honour
---
Senior Hurling Champions (17)
1908, 1918-19, 1924-25, 1927-29, 1933, 1941, 1950-52, 1954, 1957-58, 1960
Intermediate Hurling Champions (1)
2010
Junior Hurling Champions (6)
1915, 1932, 1943, 1972, 1974, 2005
U-21 Hurling Champions (5)
1963, 67, 70-72
Minor Hurling Champions (4)
1949, 1960, 1967, 1968
U-16 Hurling Champions (2)
1965, 1966
Junior Football Champions (1)
1973